H-1B Cap 2023 Filings: Tips & Success Strategies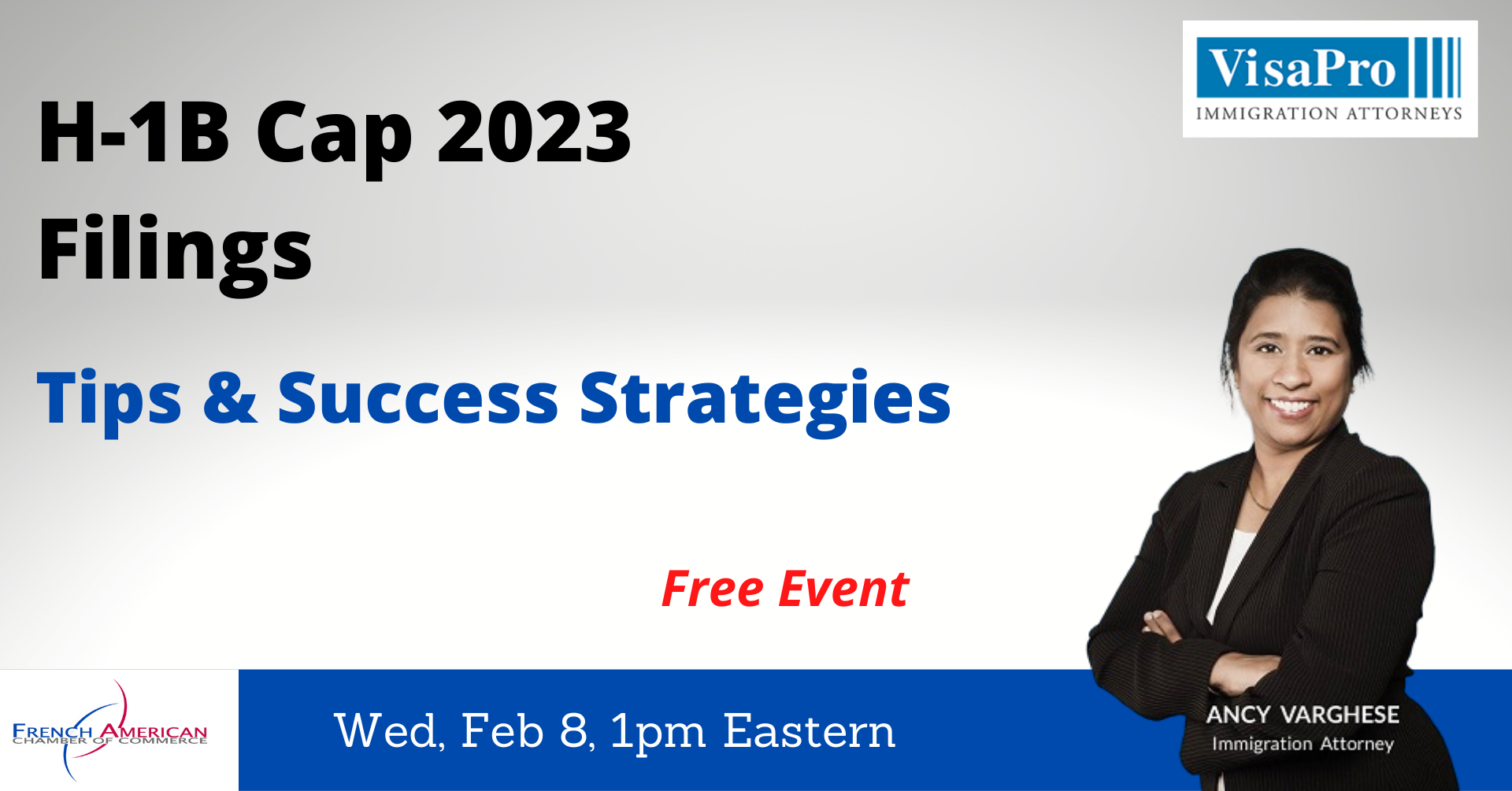 About The Webinar
The H-1B Cap 2023 presents twin challenges to employers – filing H-1B registrations in time to get selected in the H-1B lottery, and filing strong H-1B petitions to ensure successful approvals. This webinar will help you get a head start with H-1B Cap 2023 registration procedures, filing preparation and help increase the chances of lottery selection and approvals.
You'll Learn:
H-1B Pre-Registration Rule: What Is It And How To Comply With It?

H-1B Trends: What To Expect In FY 2023 H-1B Cap Filing?

H-1B Cap Filing Timeline: How To Improve The Chances of H-1B Lottery Selection?

DOL Wage Level 1: Does It Still Work?

How To Prove Employer-Employee Relationship?

H-1B Cap Filing For Students On F-1 OPT

How A Small Company Can Apply For H-1B Visas

How To Avoid An H-1B RFE: Lessons From H-1B 2022 RFEs

Strategic Drafting Of The Job Description

How To Write A Strong H-1B Support Letter

H-1B Visa Processing At U.S. Consulates

Typical Case Scenarios

PLUS: Q&A With The Attorney
About The Attorney

Ancy S. Varghese
Ms. Ancy Varghese, a U.S. Immigration Attorney, will provide practical solutions, suggestions, and typical case scenarios for securing H-1B visas successfully.
With 14+ years in practicing immigration law, Ms. Varghese has experienced almost every business immigration issue. An aggressive practitioner, she provides expert immigration opinions and regularly advises clients ranging from multinational executives to treaty investors, researchers & scientists, software professionals, NAFTA professionals, as well as athletes, artists, entertainers and fashion models.
Free Event
Wednesday, February 8
1pm Eastern
When
February 8th, 2023 1:00 PM through 2:00 PM
Event Fee(s)
FACC Member?
Yes, I am an FACC Member
Not a member (Call us at 202-640-1806 if you'd like to become one)
Support Us