How To Become A U.S. Citizen Through Naturalization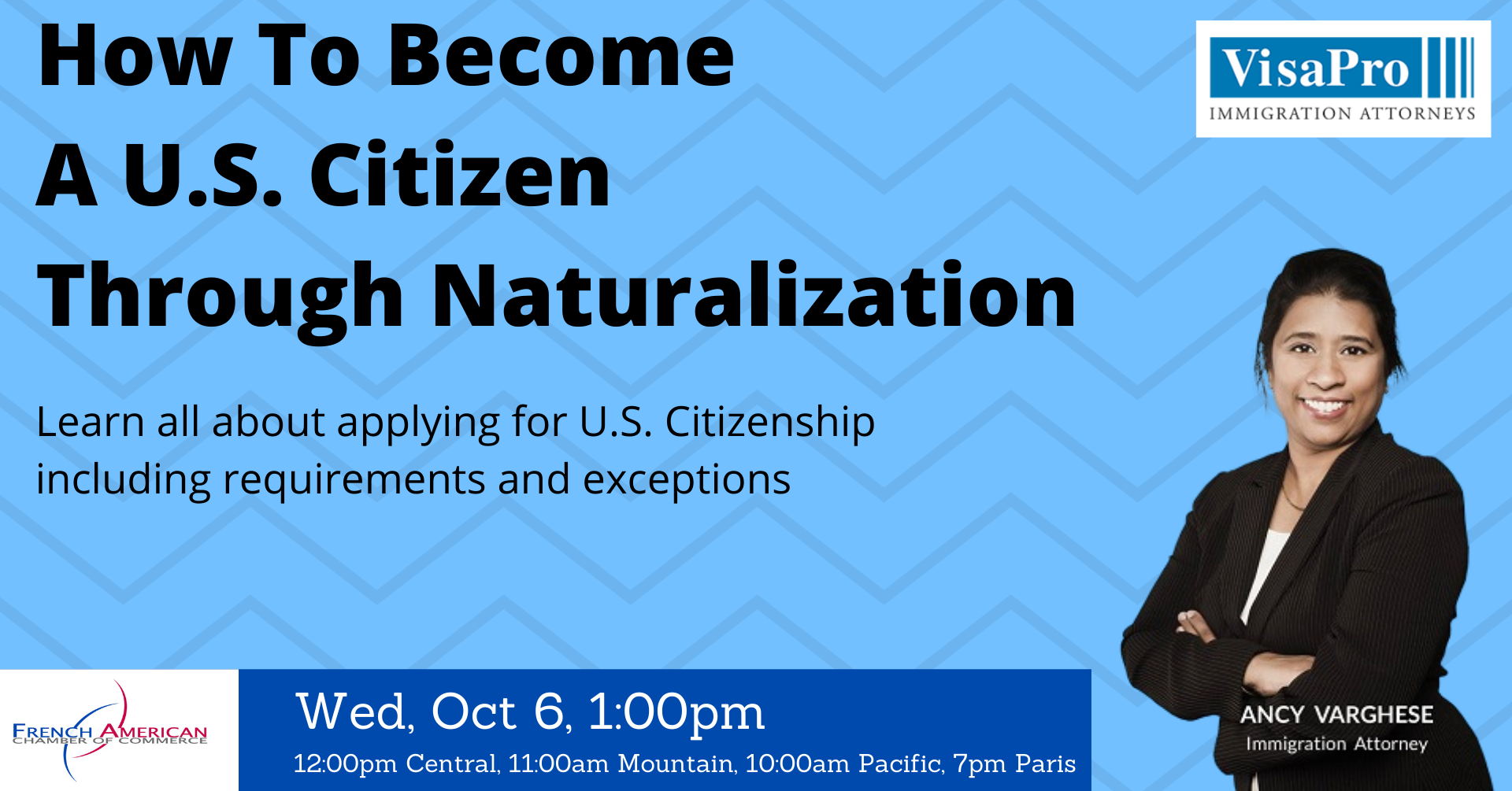 About The Webinar
Naturalization is the process by which American Citizenship is granted to non-U.S. Citizens. In this webinar, we will outline the requirements for Naturalization, a step-by-step process to apply for U.S. Citizenship, and how to avoid common mistakes in filing the Form N-400.
You'll Learn
Benefits of Becoming A U.S. Citizen


 

U.S. Citizenship Through Naturalization: Who Is Eligible


 

Naturalization Requirements: Exceptions & Accommodations


 

How To Properly File The Form N-400, Application For Naturalization


 

U.S. Citizenship Test: What Is It & How To Prepare For It?


 

When Are You Exempt From The U.S. Citizenship Test?


 

Continuous Residence Requirement: What To Keep In Mind When Travelling Abroad


 

Good Moral Character: How To Establish It For Naturalization


 

Tips To Ace The Naturalization Interview


 

Naturalization Ceremony: The Final Step


 

Derivative Citizenship: When You Don't Need The Naturalization Process


 

Typical Case Scenarios


 

PLUS: Q&A With The Attorney
About The Attorney

Ancy S. Varghese
Ms. Ancy Varghese, a U.S. Immigration Attorney, will provide an overview of the U.S. Naturalization process, the eligibility requirements, and will share practical tips and suggestions on how to become a U.S. Citizen successfully.
With 14+ years in practicing immigration law, Ms. Varghese has experienced almost every family immigration and citizenship issue. An aggressive practitioner, she provides expert immigration opinions and regularly advises clients ranging from couples who have just met each other to immigrants desiring to become U.S. Citizens quickly.
Wed, Oct 6, 2021
1:00pm
When
October 6th, 2021 1:00 PM through 2:00 PM
Event Fee(s)
FACC Member?
Yes, I am an FACC Member
Not a member (Call us at 202-640-1806 if you'd like to become one)
Support Us