Join M'Ballou Conde-Kouyate, M&T Bank's Vice-President for a presentation on COVID Financial Challenges and Relief Solutions for Small Businesses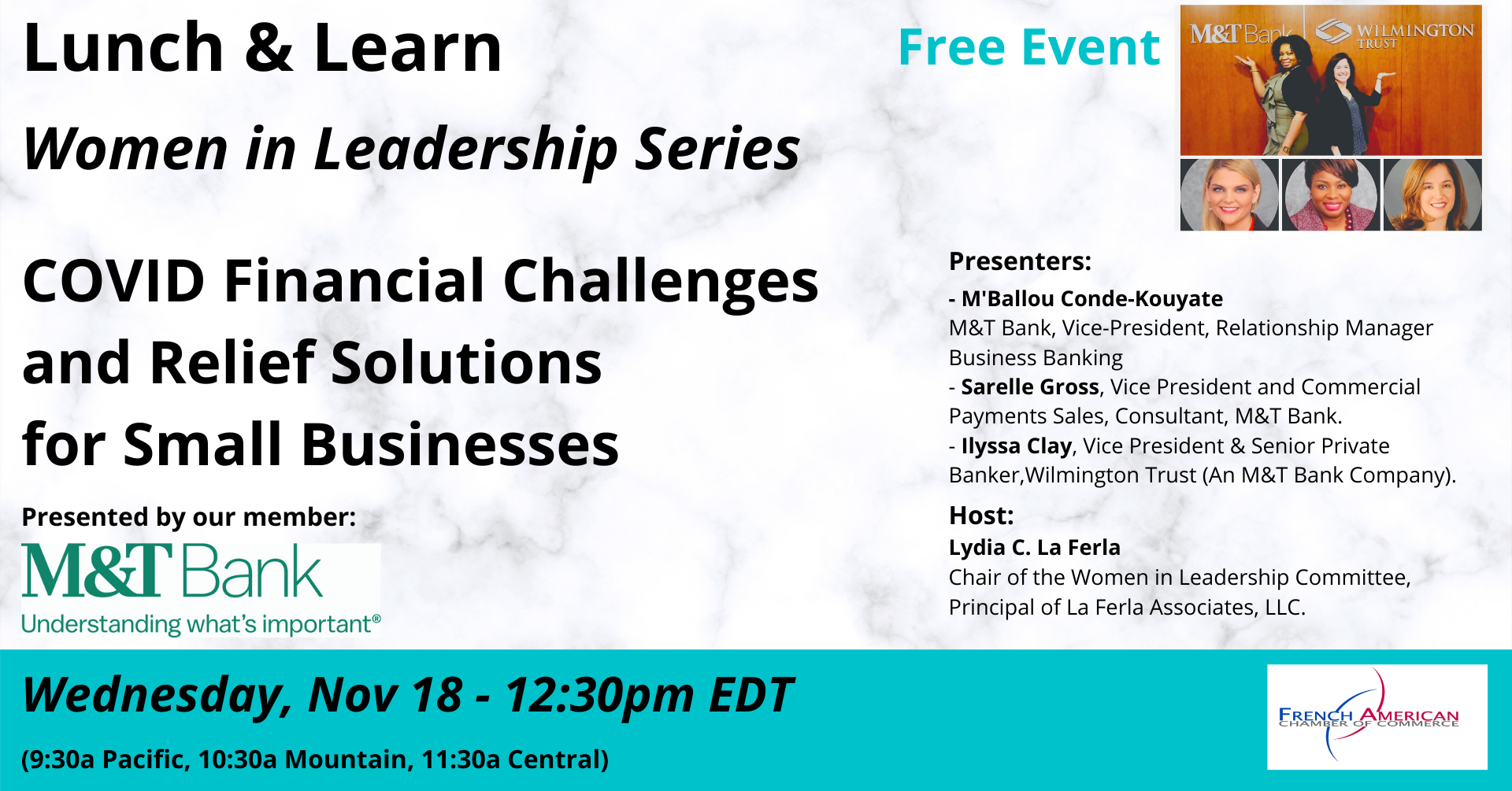 Lunch & Learn
FACC Women in Leadership SERIES
The FACC Women in Leadership Committee has launched a Lunch & Learn Series for 2020-2021 to highlight leaders in our community that are spearheading initiatives that promote women in business, inspiring our local/global networks with innovative ideas, and acting as agents of change to address local, bi-national (French-American), and global needs.
Please join us for the first Lunch&Learn in our series:
COVID Financial Challenges and Relief Solutions
for Small Businesses
 
The Coronavirus (COVID-19) outbreak has caused unprecedented financial and operational  disruption especially for small businesses.  Under the CARES Act signed into law on March 27, 2020, $376 billion of relief funding options and solutions are available for small businesses. We will discuss how to access the "Paycheck Protection Program" (PPP) designed to help businesses retain employees through loan forgiveness to maintain instead of closing down their operations.  Other business solutions and flexible financing options, including deposit/payment programs as well as investments and insurance options will be presented to help small businesses navigate the complexities of doing business during this time of economic hardship.
We will hear from our FACC Women in Leadership member, MBallou Conde-Kouyate, Vice-President and Business Bank Relationship Manager of M&T Bank.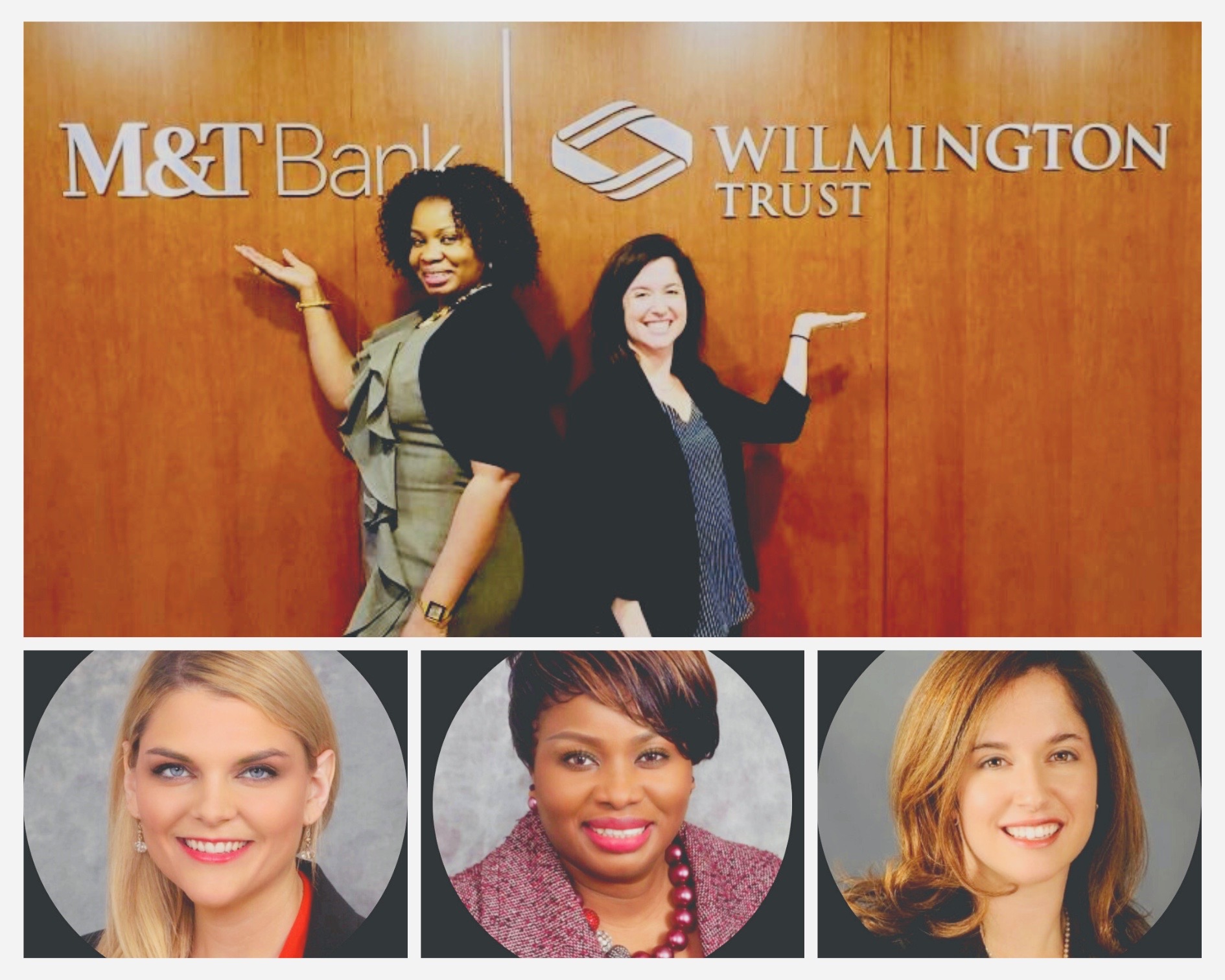 Presented by:
- M'Ballou Conde-Kouyate, M&T Bank Vice-President, Relationship Manager, Business Banking
M'Ballou Conde-Kouyate is Vice President & Business Banking Relationship Manager at M&T Bank. Her career spans over 14 years in Leadership, Management, and Banking at a minority-owned bank and two significant fortune 500 Financial Institutions in the Washington Metropolitan area. In her current role, MBallou serves as trusted adviser to target segments businesses in Washington DC & Suburban Maryland. MBallou holds an MBA from the University of Quebec in Montreal and is fluent in French and 4 other foreign languages. Above all, her greatest assets remain her passion for superior client service and her drive for community engagement.

- Sarelle Gross, Vice President and Commercial Payments Sales Consultant, M&T Bank.

- Ilyssa Clay, Vice President and Senior Private Banker, Wilmington Trust (An M&T Bank Company).

Host:
Lydia C. La Ferla, Chair of the Women in Leadership Committee/FACC-DC, Principal of La Ferla Associates, LLC.
Wednesday, October 21, 2020
12:30pm – 1:30pm
Virtual Event
When
November 18th, 2020 12:30 PM through 1:30 PM
Event Fee(s)
FACC Member?
Yes, I am an FACC Member
Not a member (Call us at 202-640-1806 if you'd like to become one)
Support Us