Storming the Bastille Celebration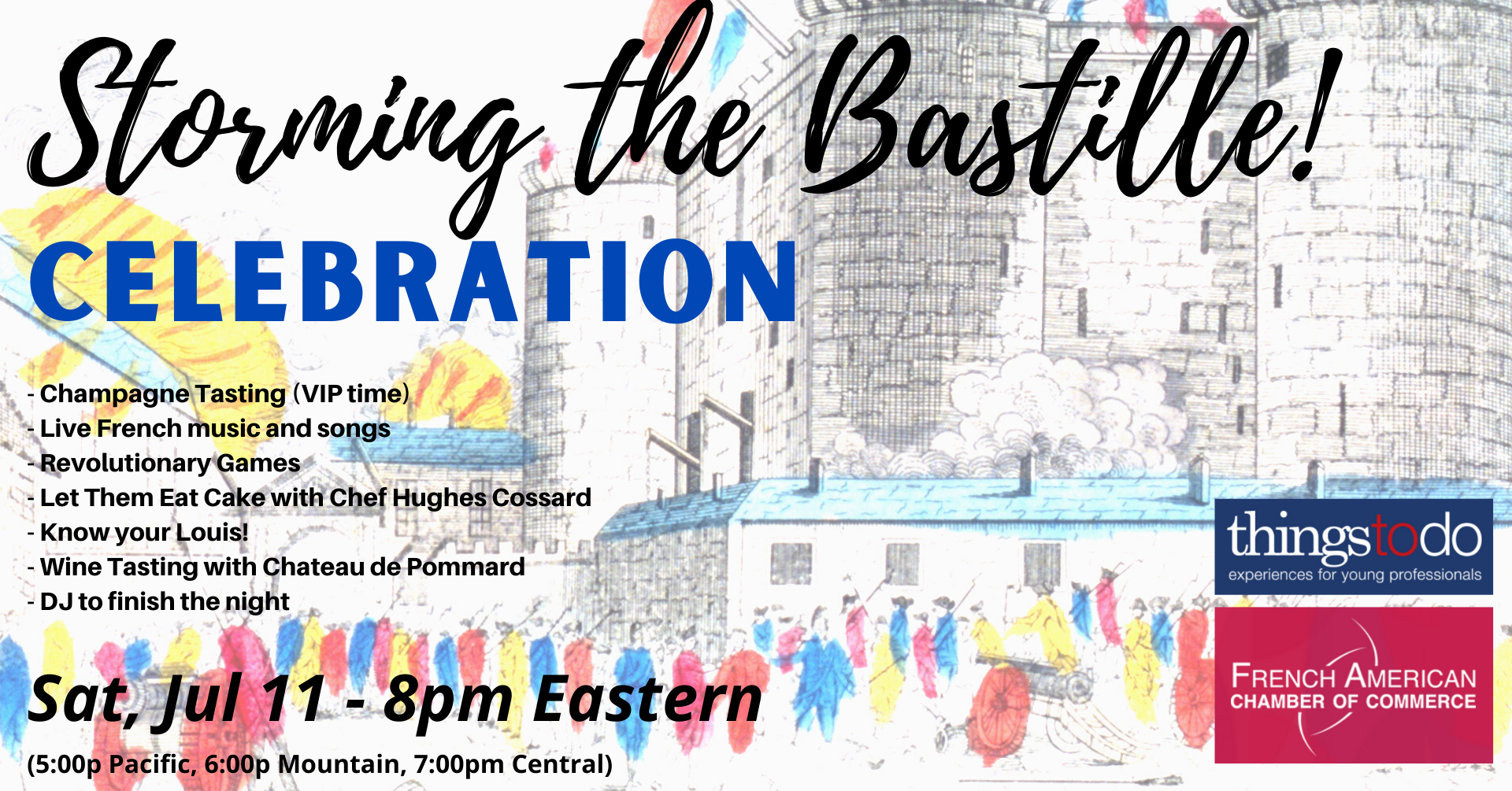 Celebrate the storming of the Bastille on Bastille Day with French music and singers, French food, a wine tasting, games, and a history presentation about the French Revolution.
On Saturday, July 11th, bring the Champs-Elysees celebrations into your living room with a very interactive cultural experience and celebration!
The Spirit of Bastille Day comes alive with a multi-faceted party that will offer you live French music, a cooking class, a wine tasting, background videos, and a top DJ who will make you dance on the latest French and US hits!
Plus, we will break out interactive rooms for a short session during the evening to offer some special French one on one interactions and experiences with your fellow revelers!
Champagne Tasting (VIP time - starts at 8:pm)

Embassy Greetings

Jennifer Bergamot-Rose sings classic French songs

Sought after to perform by the French Ambassador, the French Embassy, the French-American Chamber of Commerce, the Canada Council of the Arts and the Organization of American States. Jennifer is a free-spirit well known and acclaimed for her French vocals

performance of French Fusion and world jazz with vocals in French

and English.

French wine tasting with Jordan Lynn Traylor of Chateau de Pommard

Both a Chef and a Sommelier, Jordan is the

brand ambassador for Château de Pommard in the United States. Tonight, your wine experience will feature a couple of great wines from Burgundy, their story and how they can match with a delicious meal. Enjoy!

Rochambeau Choir directed by Simon Charette sings Paris s'Eveille on video

Trained as a pianist and as an opera singer, Simon has already made his mark as a dynamic and charismatic instructor and musically versatile, multi-faceted performer/conductor. He is the assistant conductor of the Southern Maryland Youth Orchestra and conducts the Rochambeau Choir and the Choir of the French Embassy. Simon teaches music at Rochambeau, the French International School.

Live French music with Jeremy Lodeon

Singer/keyboardist from Martinique, a French departement. Tropical style with European Classics and American pop.

Let Them Eat Cake with Chef Hughes Cossard

Learn how to make a

festive Bastille day apple cake)

Special Guest: Louis XVI (complete with his head on his shoulders...)

Impersonator Michael Levick has portrayed celebrities and historical personalities ranging from Elvis to Austin Powers, Santa Claus, Trump and George Washington. Tonight, he is the last king of France telling you some head-chopping facts about his royal self.

Know Your Louis! A history specialist tells you why the French revolted.

Get enlightened (enlightened... get it? ;) ) with the help of a historian and learn your bourgeois from your sans-culottes.

Breaking Rooms

At some point during the evening, we will break out into smaller rooms and offer you the chance to chat one on one with your new friends. Share stories about part French experiences, get ideas, and perhaps make new friends that can last a lifetime.

Let's celebrate: Finish the night with a DJ spinning French and American hits!

This isn't a simple night where you watch a DJ mix music and stare at his talents. The DJ will get you off your seats and into a live, interactive dancing party! As if you were in the hottest clubs in Paris, he will showcase different styles of French and American music! As you dance, you will feel the European dance floors beneath your feet and the European warmth of your fellow revelers (even if virtually)
Saturday, Jul 11
Liberty Tickets with Champagne tasting: 8:00pm
Equality Tickets: 8:30pm to 11:00pm
Fraternity Tickets: 8:00pm to 11:00pm with a donation (you'll get special recognition during the event!)
When
July 11th, 2020 8:00 PM through 11:00 PM
Event Fee(s)
FACC Member?
FACC Member: Liberty Ticket VIP Time (8pm) - $10
FACC Member - Equality Ticket 8:30pm Admission - $5
FACC Member: Fraternity Ticket (same as Liberty with a donation) - 8pm Admission - $15
Non FACC Member - Liberty Ticket VIP Time (8pm) - $15
Non-FACC Member: Equality Ticket 8:30pm Admission - $10
Non FACC Member - Fraternity Ticket (Same as Liberty Ticket with a Donation) - 8pm Admission - $20
Sending you extra love!