Learn how to successfully complete the complex PERM Labor Certification Process.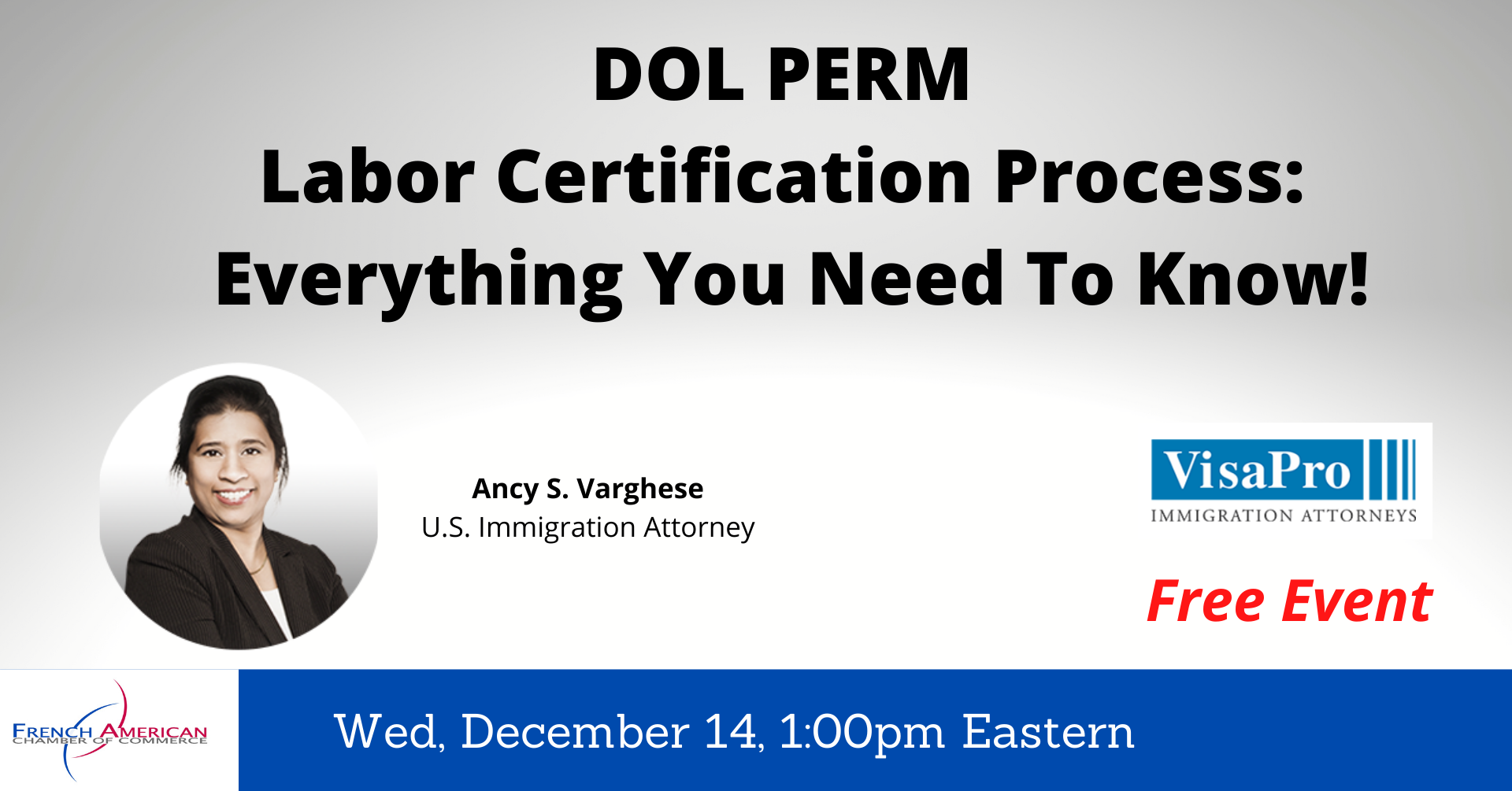 About The Webinar
The PERM Labor Certification is often the first step required by U.S. employers sponsoring foreign national employees under employment-based Green Card. Considering the intricate details involved in the process, this webinar will offer you step-by-step process to ensure a timely approval of the PERM application, and show you how to avoid common mistakes in the PERM filing process.
You'll Learn:
PERM Labor Certification Process: An Overview

When To Start The PERM Application: Why Timing Is Crucial

How To Write The Perfect Job Description

Qualifying Experience: Importance of Employment Letters

Experience Gained With Petitioner: How Can It Be Used?

DOL Prevailing Wage: What Is It?

Recruitment Steps: Successfully Navigating The Maze

"Expediting" PERM Recruitment Process: Is It Possible?

How To Properly File The Form 9089

Layoffs And Downsizing: Can They Jeopardize The PERM Application?

Special Considerations: Work From Home, Third-Party Work Sites, Travel, etc.

PERM Audit: How To Be Prepared To Respond?

Impact of COVID-19 on The PERM Process

Typical Case Scenarios

PLUS: Q&A With The Attorney
About The Attorney

Ancy S. Varghese
Ms. Ancy Varghese, a U.S. Immigration Attorney, will provide practical solutions, suggestions, and typical case scenarios for securing appropriate alternate U.S. work visas to successfully work in the U.S. even after the H-1B cap is reached. 
With 14+ years in practicing immigration law, Ms. Varghese has experienced almost every business immigration issue. An aggressive practitioner, she provides expert immigration opinions and regularly advises clients ranging from multinational executives to treaty investors, researchers & scientists, software professionals, NAFTA professionals, as well as athletes, artists, entertainers and fashion models.
Free Event
Wednesday, Dec 14
1pm Eastern
When
December 14th, 2022 1:00 PM through 2:00 PM
Event Fee(s)
FACC Member?
Yes, I am an FACC Member
Not a member (Call us at 202-640-1806 if you'd like to become one)
Support Us