Wharton Innovation Summit 2021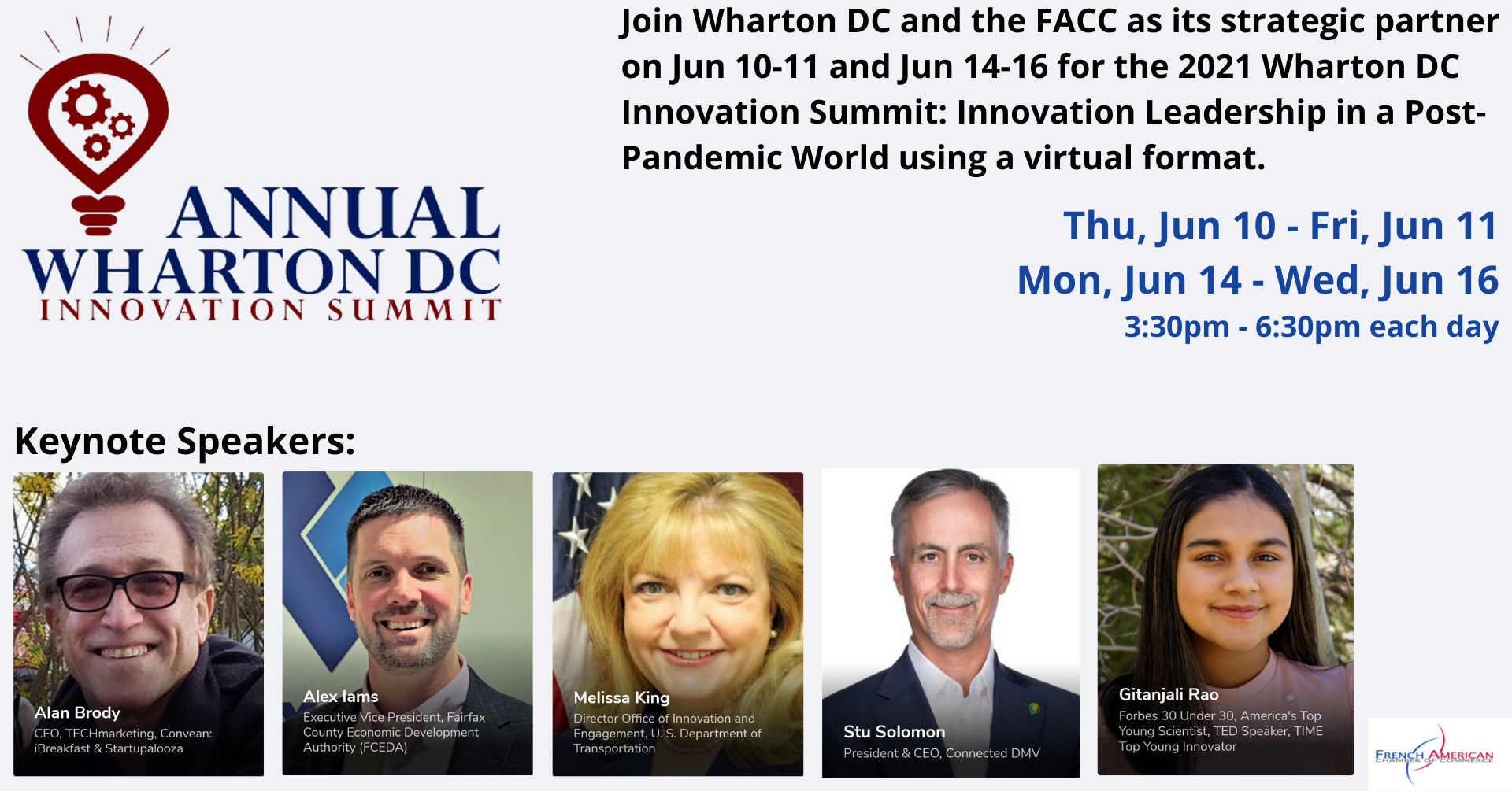 Join Wharton DC and the FACC as its strategic partner on Jun 10-11 and Jun 14-16 for the 2021 Wharton DC Innovation Summit: Innovation Leadership in a Post-Pandemic World using a virtual format.
Businesses, governments and society are still grappling with the "new normal" thrust upon the world by COVID-19. But healthcare, supply chains, real estate, transportation, and infrastructure are already undergoing new shocks and adapting as the world reopens. The workplace, logistics, communications, leisure, entertainment and education are continuing their rapid evolution that began when the pandemic struck.
Fintech, AI, 5G, and other emerging technologies will be leveraged as never before to address the shortcomings exposed by the pandemic, including healthcare quality, affordability and access. Goals such as greater sustainability and a "circular economy" are rising to meet energy, transportation, environmental, strategic, social and other challenges. Fundamental changes in the way we live, work, travel and trade will continue to evolve long past the pandemic. The 2021 Wharton DC Innovation Summit will explore the impact of these key shifts including:

• How innovators and entrepreneurs are positioning to take advantage of them,
• How they are getting private and public funding, and
• What new attributes are required for successful post-pandemic innovation leadership.
Thu, Jun 10 - Fri, Jun 11
Mon, Jun 14 - Wed, Jun 16
3:30pm - 6:30pm each day
Important: To benefit from our Strategic Partner status,
you must select Strategic Partner Member or Guest and indicate FACC-WDC Member
(or Guest if you are not an FACC member) in the Special Instructions box when you register.

Click here for full program and to register
When
June 10th, 2021 3:30 PM through June 16th, 2021 6:30 PM