Scavenger Hunt Online - French Edition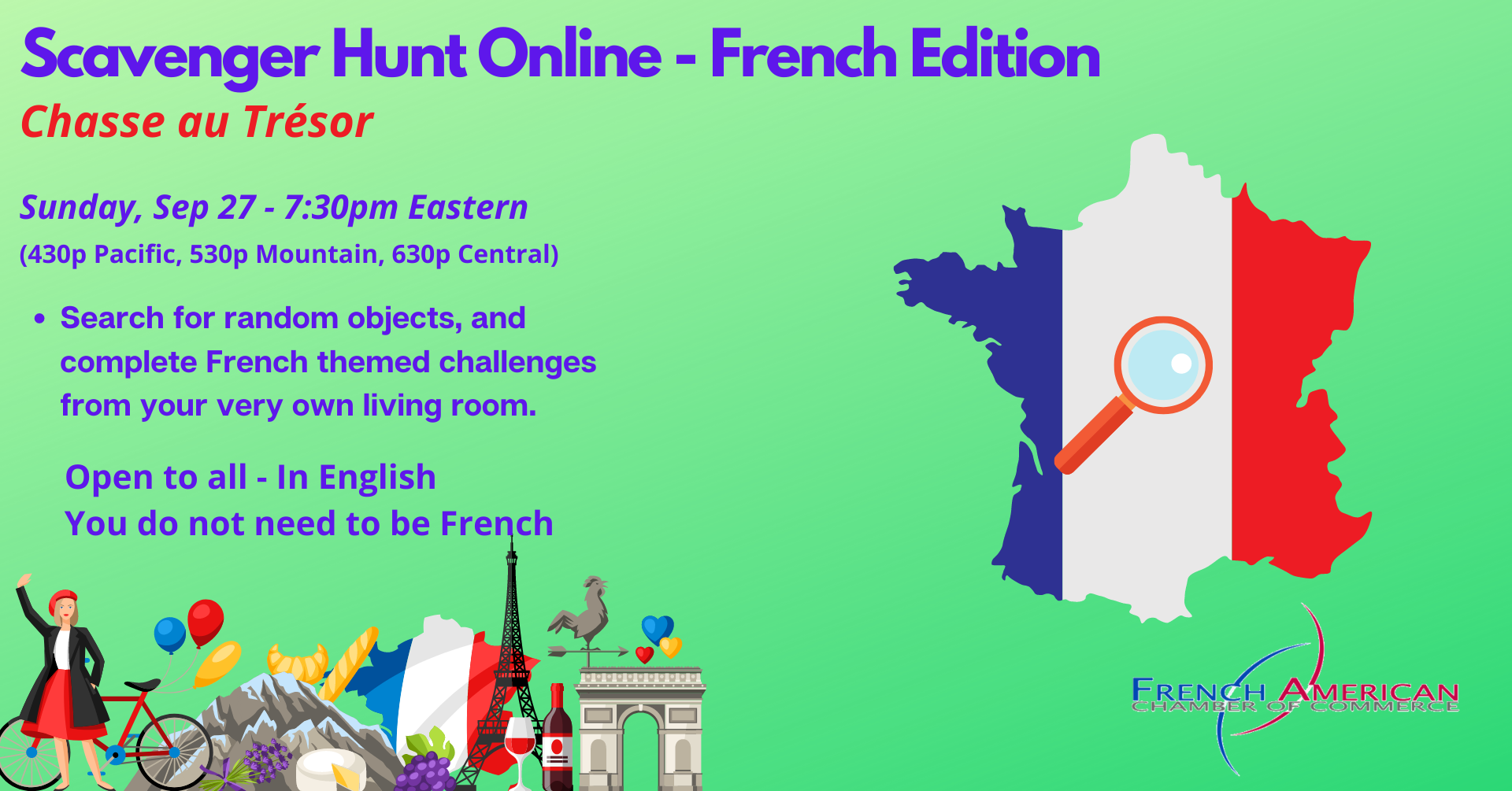 We are bringing bringing France and the Scavenger Hunt to your own home!   Search for random crazy objects, and complete French themed challenges from your very own living room.
The great majority of items will all be FRENCH THEMED!  Perhaps an actual croissant, a French book or painting, a French recipe, a souvenir from your last visit to France or a special invention we challenge you to make, tonight's scavenger hunt will bring you many new friends online and challenge your resourcefulness and creativity!
How does it work?
1) Upon starting, we will break you into teams and put you each into a virtual breakout chat room.   Each team will be given a list of several items to retrieve, pictures to take, trivia to learn about each other, and challenges to complete.
2) A team leader will be chosen to help direct their team to collect the items.   Each item and challenge will be worth a certain amount of points.   Teams are not expected to retrieve all of the items listed.
3) There will be 2 to 3 different check-ins times during the event.  At each time, new curveballs and challenges may be thrown at each team for a chance to win more points.
4). The winning team will be the one that collects the most points. Prizes will be awarded to the top team.
Throughout the evening, you'll learn about and explore fascinating subjects of your own home, your neighborhood, and your teammates.   There are over 100 items listed and what you see depends upon your team's resolve, speed and ability to have fun!
Sun, Sep 27
7:30 pm Eastern
When
September 27th, 2020 7:30 PM through 9:30 PM
Event Fee(s)
FACC Member?
FACC Member: Free
Not a member: $10 (Call us at 202-640-1806 if you'd like to become one)
Support Us