Please join us on Wednesday, March 13 from 6-9pm at the French Embassy in Washington, DC. , to hear from leaders creating new opportunities in healthcare both here and abroad. We will be learning about some exciting new developments in neuroscience.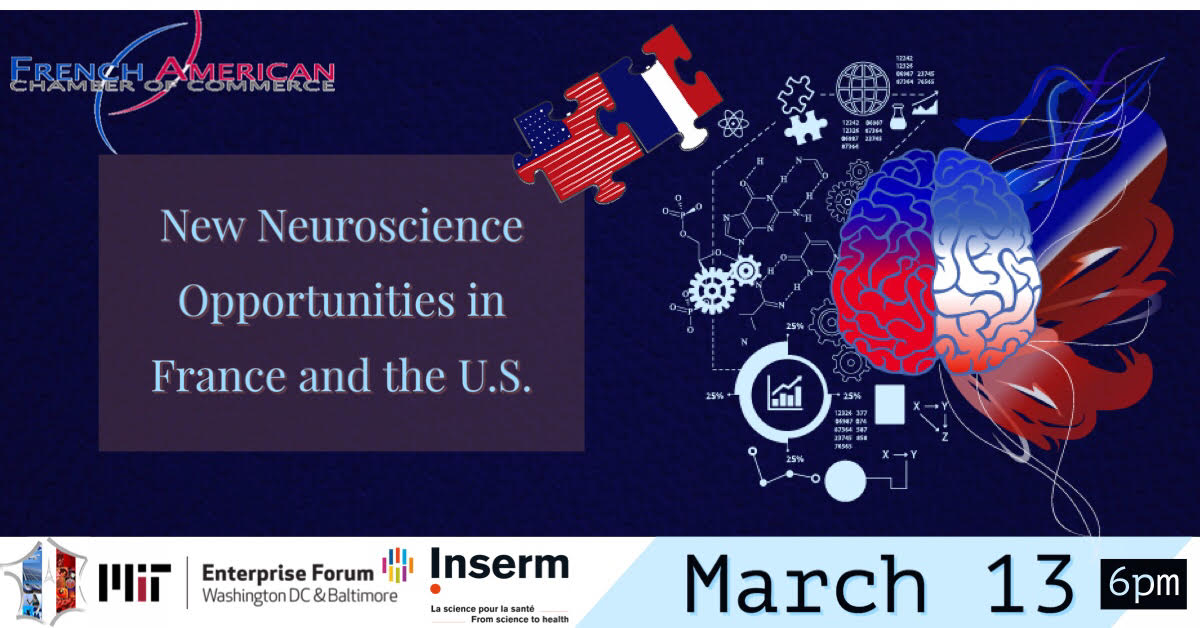 The French-American Chamber of Commerce, the MIT Enterprise Forum, the Office for Science and Technology of the French Embassy and INSERM are partnering to bring you this information-packed event on the latest neuroscience research from both sides of the Atlantic.
Program
Speakers

Dr. Olivier Blin
Professor of Pharmacology at Aix-Marseille University, certified in Neurology, Psychiatry and Medical Biology. Head of the Clinical Pharmacology & Pharmacovigilance Department, Marseille University Hospital, member of UMR AMU-INSERM 1106, and coordinator of the University Hospital Federation DHUNE, COEN center on neurodegenerative disorders and aging.
At the national level, he is a Member of the Working Group French National Plan for Rare Diseases, Member of the National Steering Committee French National Plan for Neurodegenerative Diseases and of the scientific committee of CNS ITMO Aviesan. He also is Vice President of the scientific council of CSFRS, Ecole Militaire, Paris.
At the international level, he is an elected member of Innovative Medicines Initiative Scientific Council. IMI is the world's biggest public-private partnership in the life sciences that aims to improve health by speeding up the development of, and patient access to, innovative medicines. It is a partnership between the European Union, represented by the European Commission, and the European pharmaceutical industry, represented by EFPIA.
Olivier Blin is a Past member of the Board of the French Minister of Health, Founding Vice-President of Eurobiomed Cluster, Past Head of Unit Physician, CNS, GSK, Shanghai and Past Visiting Professor at Imperial College London.
Stephanie Fertig
Project manager/program officer for the small business programs at the National Institute of Neurological Disorders and Stroke (NINDS). Multidisciplinary experience in government science research and administration, including translational research. Multiple patent holder.
John Reppas
John Reppas MD-PhD is a technology expert who operates at the intersection of academic, government, and private-sector innovation. He is the Washington, D.C. based Director of Public Policy for the Neurotechnology Industry Organization (NIO), where he is responsible for government engagement, advocacy, international initiatives, and public-private collaboration to advance commercial neuroscience. Dr. Reppas has more than a decade of private-equity experience, with an extensive
track record both as a direct investor in early-stage companies that operate in regulated markets, and as an advisor to healthcare and technology focused asset managers.
John graduated from Oxford University with a Bachelors of Medicine, received his MD from the Harvard-MIT Division of Health Sciences and Technology, and his PhD from the Department of Neurobiology at Harvard Medical School. He received further fellowship and postgraduate training at the Stanford University School of Medicine.
Dr. Thomas Hazel
Senior VP of Research, Neuralstem Inc.
Dr. Hazel is Senior VP of Research at Neuralstem, a company focused on the development of stem cell therapies for CNS injury and neurodegenerative disorders. He has held this position since 2008, directing research and manufacturing activities relating to the development of the company's proprietary technology. From 1998 until 2004, Dr. Hazel served as Director of Stem Cell Discovery at the company, overseeing preclinical development of the company's stem cell therapies. From 2004 to 2008, Dr. Hazel held senior management positions at Innovative Biosensors, a biotech startup focused on the development of cell-based technologies for detection of pathogens. Dr. Hazel received his PhD from the University of Illinois, Chicago, and did his post-doctoral work in the Laboratory of Molecular Biology at NINDS/NIH.
Presenting Companies

KinometriX, Sam Jazzo presenting
KinometriX is a company revolutionizing the rehabilitation industry by providing practical tools for gathering objective data from patients. Currently, the gold standard for assessing patients is subjective self-reporting; by using our hybrid IOT motion sensor/cloud platform, clinicians can gather quantitative motion data to track patient's rehab progress or disease state.
Synapstory Production Group, Dr. Wendy Anson presenting
Synapstory Production Group, Inc. creates omni-cultural trauma assessment and therapeutic solutions for all ages and stages by "Tracking Trauma at the Speed of Sight."
AlgometRx, Dr. Dan Gura presenting
Device development and method that uses unique biometric signatures to provide an objective measure of pain and analgesic effect. The measurement of the pupillary response to low-intensity, non-noxious neuro-specific neurostimulation serves as a biometric that reflects nociceptive processes. Individualized pain assessments can then be the basis for treatment.
When
March 13th, 2019 5:45 PM through 9:30 PM
Location
French Embassy




4101 Reservoir Rd NW




Washington

,

DC

20007




United States
Event Fee(s)
| | |
| --- | --- |
| Event Fee(s) | |
| FACC Members - Call us if you are not yet a member and want to become one: 202-640-1806 | $ 39.00 |
| Non Members | $ 59.00 |
| BABA and SACC members | $ 39.00 |
| MIT Alumni Club Washington DC | $ 39.00 |
| MIT Enterprise Forum Washington DC and Baltimore | $ 39.00 |
| Society of Physician Entrepreneurs | $ 39.00 |
| Stanford Entrepreneurs | $ 39.00 |
| Society for Neuroscience | $ 39.00 |
| YPFP Members | $ 39.00 |
| Students (student ID will be checked at the door) | $ 19.00 |