F-1 OPT To H-1B Visa Change of Status Filings: Tips & Strategies. Learn how to successfully file F-1 to H-1B Change of Status petition and how to bridge the Cap Gap.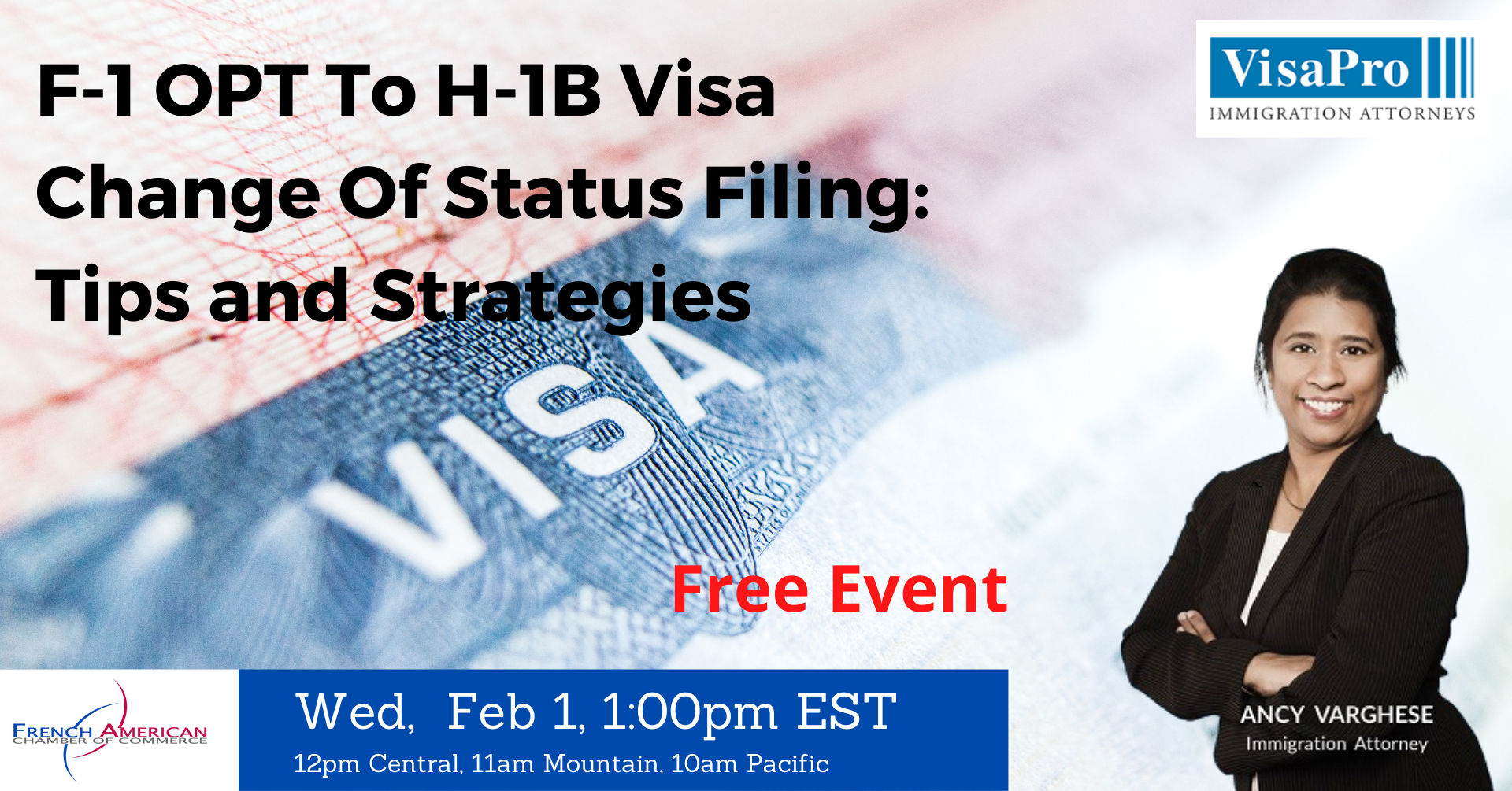 About The Webinar
Employers filing H-1B petitions for F-1 students need to ensure that the H-1B registrations are submitted during the acceptance period, and during the students' authorized period of stay. This webinar will present the procedures to successfully file F-1 to H-1B Change of Status petitions, and avoid undesirable break in employment due to cap-gap.
You'll Learn
H1B Pre-Registration For 2023: All You Need To Know

CPT, OPT, STEM Extension: Does It Make A Difference For H-1B Cap Filing?

H-1B "Cap Gap": What Is It And How To Bridge The Cap Gap?

No Degree Certificate: Can You Still File H-1B Petition?

Does Your US Master's Degree Qualify For The Master's Cap?

Change Of Status OR Consular Process: Which Is Better?

OPT STEM Extension: Is It Necessary If The H-1B Petition Is Selected?

Travel Restrictions While The H-1B Petition Is Pending

The Unlawful Presence Rule: What You Must Keep In Mind

Next Steps After H-1B Petition Approval

Typical Case Scenarios

PLUS: Q&A With The Attorney
About The Attorney

Ancy S. Varghese
Ms. Ancy Varghese, a U.S. Immigration Attorney, will provide practical solutions, suggestions, and typical case scenarios for securing H-1B visas successfully.
With 14+ years in practicing immigration law, Ms. Varghese has experienced almost every business immigration issue. An aggressive practitioner, she provides expert immigration opinions and regularly advises clients ranging from multinational executives to treaty investors, researchers & scientists, software professionals, NAFTA professionals, as well as athletes, artists, entertainers and fashion models.
Free Event
Wednesday, February 1st
1pm Eastern
When
February 1st, 2023 1:00 PM through 2:00 PM
Event Fee(s)
FACC Member?
Yes, I am an FACC Member
Not a member (Call us at 202-640-1806 if you'd like to become one)
Support Us