How To Start A Business In the U.S. As A Foreigner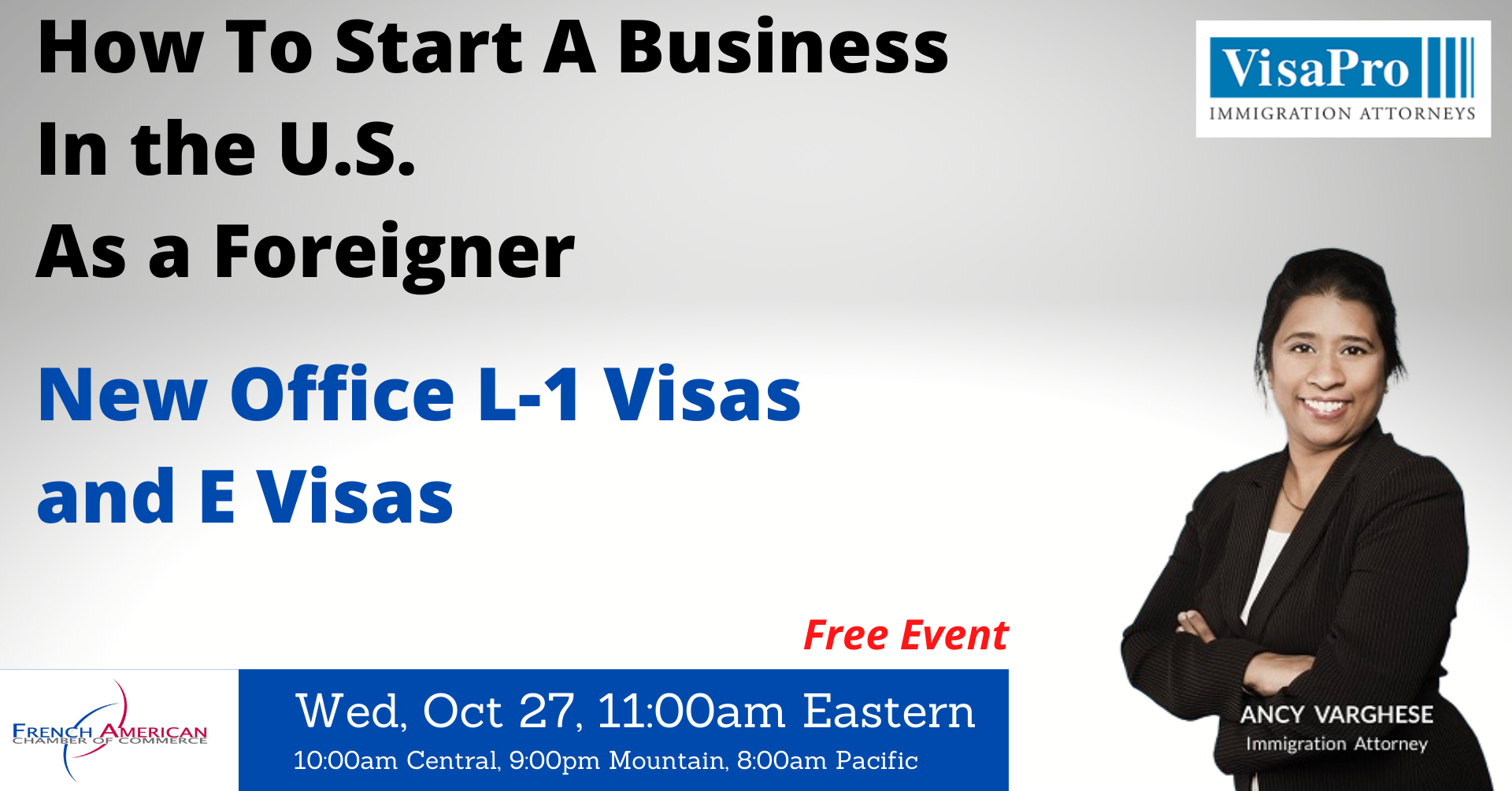 About The Webinar
For starting a business in the U.S. as a non-U.S. citizen, or moving key personnel to USA, the New Office L-1 Visa or E Visa are great options. The L-1 visa allows qualified executives and managers a faster path to secure Green Card. This webinar will educate you on the key challenges and strategies associated with securing New Office L-1 Visa or E Visa successfully.
You'll Learn
How To Choose Type Of Business Entity: Corporation, LLC, LLP

How To Select Ownership Structure: Subsidiary, Branch, Affiliate

How To Choose Between L-1 Visa and E Visas (E-1 and E-2)

E-2 Visa For Citizens of China, India & Other Non-Treaty Countries

Selecting The Best Alternative: L-1A or L-1B

How To Qualify The Ownership For L-1 Visa

Is Physical Office Space In The U.S. Mandatory

What To Include In The Business Plan

How To Develop Organization Charts And Job Descriptions

Can You Use Overseas Staff To Support Managerial Position In The U.S.

How To Apply For L-1 or E Visa At U.S. Consulates

How To Avoid L-1 or E Visa Extension Denial

Employment Authorization For Spouse: When Is It Possible

Typical Case Scenarios

PLUS: Q&A With The Attorney
About The Attorney

Ancy S. Varghese
Ms. Ancy Varghese, a U.S. Immigration Attorney, will provide an overview about starting your business in USA, practical tips and suggestions to manage your business or work in America successfully.
With 14+ years in practicing immigration law, Ms. Varghese has experienced almost every business immigration issue. An aggressive practitioner, she provides expert immigration opinions and regularly advises clients ranging from startup CEOs, multinational executives to treaty investors.
Free Event
Wednesday, October 27
11:00am Eastern
When
October 27th, 2021 12:00 PM through 12:00 PM
Event Fee(s)
FACC Member?
Yes, I am an FACC Member
Not a member (Call us at 202-640-1806 if you'd like to become one)
Support Us