La Route des Grands Crus Private Experience with Preston Mohr and Jordan Lynn Traylor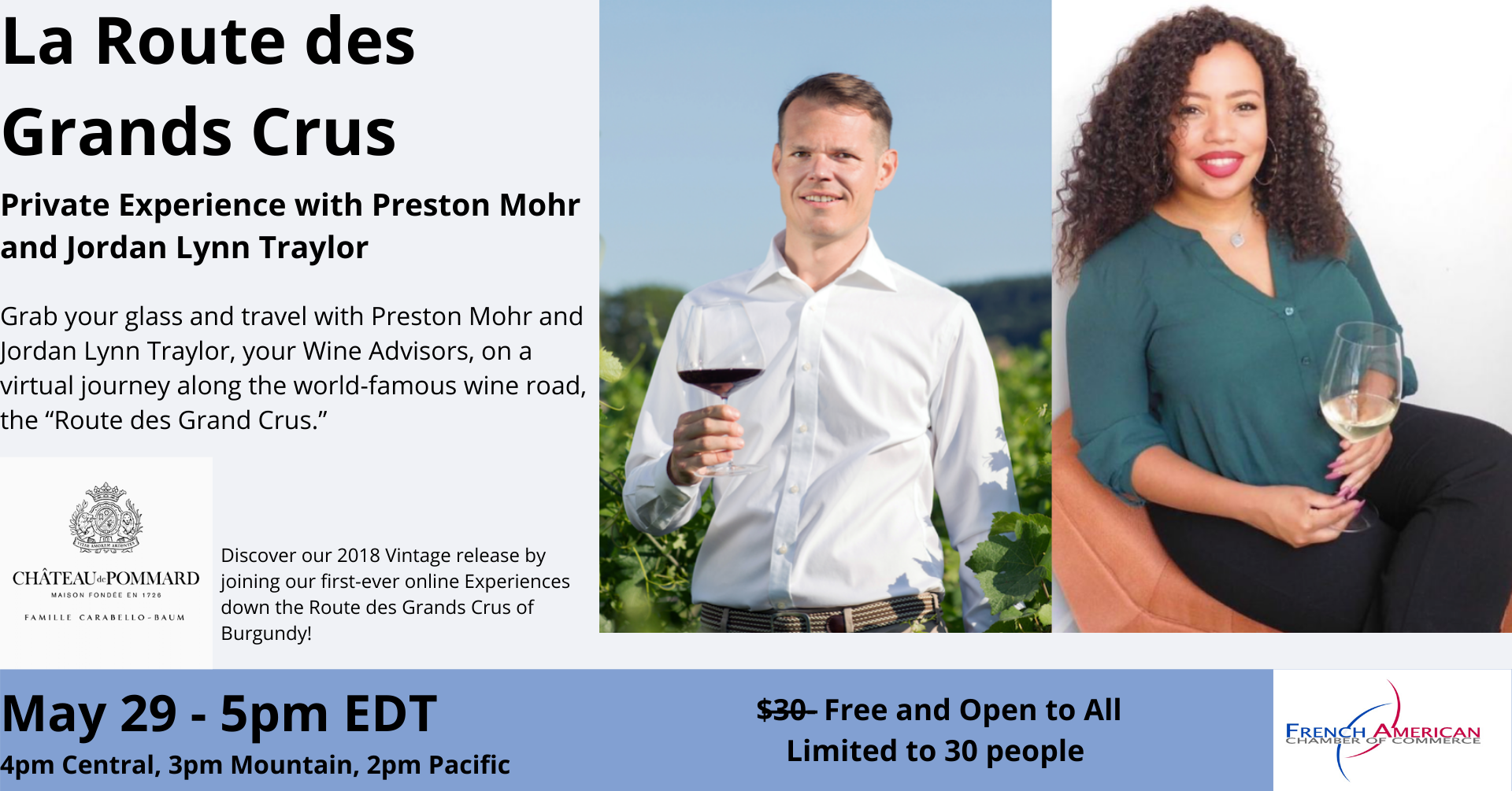 La Route des Grands Crus
Private Experience with
Preston Mohr and Jordan Lynn Traylor
Discover Chateau de Pommard 2018 Vintage release by joining our first-ever online Experiences down the Route des Grands Crus of Burgundy!
During these challenging times, it's difficult to travel, so let Preston Mohr and Jordan Lynn Traylor bring Burgundy to you. Learn how Burgundy's star grape varieties, Pinot Noir and Chardonnay, express themselves across Burgundy's rich maze of villages and terroirs.
With advance purchase our Route des Grands Crus Collection, you can taste along in real-time with Preston! However, you may of course still join us without having the wines. You will have the opportunity to purchase all of the wines featured after the event.
We sincerely hope that we are able to physically travel to a city near you in the near future. But there's no reason to stop learning and enjoying fabulous Burgundy wines in the meantime!
What will I learn?
Introduction and history of Burgundy

About the 5 subregions of Burgundy and their specialties

What is the Route des Grands Crus?

Best wine tasting practices with your WSET-certified Wine Advisor

How to enjoy Burgundy wines with food

How do natural factors influence wine's taste, style and ageability?

How to navigate Burgundy's myriad classifications

How to plan your next trip to Burgundy and visit Château de Pommard, founded in 1726
Details
About Preston
Originally from the United States, Preston first came to France to complete his studies in art history. He fell quickly in love with the culture of France, its cuisine and above all, its wine. Preston has now lived in France for over 15 years and holds a Diploma in Wines & Spirits from the WSET (Level 4). Preston also received a Bachelors of Arts in Art History and French from the University of Minnesota and a Masters of Global Hospitality Management from Georgia State University. Having spent many years in wine education, distribution and wine tourism, Preston understands that wine can be full of emotion but is often intimidating and very subjective. His role with Château de Pommard as your trusted Wine Advisor is to demystify the wines of Burgundy and to help you create a special place for wine in your life.
About Jordan
A California native, Jordan got her start in the hospitality industry while finishing her culinary training as a chef in a Michelin starred restaurant in Sorrento, Italy. Living in Italy is where her love for wine and wine culture really began to grow and develop. Upon returning to the states, she built a successful catering business and spent many years as a high-profile, celebrity private chef and wine cellar consultant. She has also been teaching cooking and wine pairing classes at the Atlanta Wine School for several years. Jordan has continued to work in the food and wine industry, traveling and working with various clients all over the world primarily in Italy, France, and in her home state of California. She is currently studying for the WSET 3 and Court of Master Sommeliers Certified exams. She is passionate about the marriage of food and wine and cannot wait to share that knowledge with you!
When
May 29th, 2020 5:00 PM through 6:30 PM